TribalVision Managing Partner Chris Ciunci and Google Strategist Mariana Sales Luis teamed up to conduct an invitation-only marketing workshop at Google's Corporate Campus in Cambridge, MA. Held Wednesday, November 15th, the workshop attracted business owners and marketing executives from across New England eager to learn the latest digital marketing trends, tactics and tools to be leveraged to drive growth in 2018.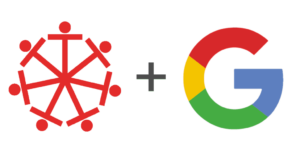 Spread over two presentations, the workshop allowed for both Ciunci and Luis to separately cover their respective areas of expertise. Ciunci spent the first half of the workshop distilling the latest in digital marketing trends, providing attendees with actionable tips and effective digital tools designed to increase awareness and generate new business. Luis, a seasoned Google strategist, complemented Ciunci's presentation by uncovering some of Google's latest digital offerings, placing great emphasis on the power that AdWords, Mobile and YouTube have to accelerate organizational growth across all industries.
"We were very impressed with the depth of knowledge TribalVision has, not only on Google products, but on all types of marketing strategies for various types of companies," Luis concluded after the workshop. "I'm definitely taking TribalVision's ideas and applying them, as well. Companies like TribalVision and events like this are the reason to push forward with Google and agency partnerships."
Ciunci was also pleased with the outcome of the event, stating "This partnership with Google is going to have tremendous impact on our clients. Mariana and her team have been an excellent resource to us so far, and our relationship with them is just beginning. I look forward to hosting more workshops in the future as our partnership continues to grow."
About TribalVision
As an outsourced marketing department for hire, TribalVision's mission is to help organizations grow. This is achieved by combining intelligent strategy with tactical execution in a hands-on, results-driven manner. TribalVision utilizes its clients' marketing budgets as efficiently and intelligently as possible – ensuring that each dollar spent maximizes awareness and generates new business. TribalVision's unique marketing model is designed to fully align interests with client outcomes – guaranteeing an objective, client-first partnership. This is demonstrated in the firm's fee-based compensation structure, "roll up your sleeves" mindset, metrics-driven approach, and role as a trusted marketing resource tasked to help navigate organizations to higher grounds.