PROVIDENCE December 30, 2019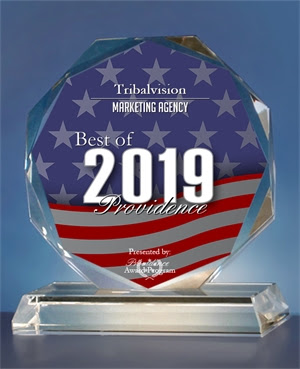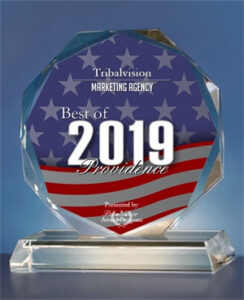 —  The Providence Award Program has selected TribalVision as 2019 Best of Providence Award in the Marketing Agency category! 
Each year, the Providence Award Program selects local companies that they believe have achieved exceptional marketing success in there community and business category. The 2019 Providence Award Program focuses on quality, not quantity. Winners are determined based on the information gathered both internally by the Providence Award Program and data provided by third parties. This recognition is a result of TribalVision's continuous focus on using a myriad of cutting edge outsourced marketing initiatives to grow its clients' top-lines, as well as their own. The companies chosen exemplify the best of small business; often leading through white glove customer service and community involvement.
In hearing the news, TribalVision Managing Partner Chris Ciunci stated, "We are honored to be named a top Rhode Island marketing agency and credit the award to our dedicated team at TribalVision. Their tireless work and deep marketing expertise have lifted TribalVision from an unknown agency ten years ago to where we are today. While awards such as this are wonderful, I'm most proud of the results we are driving for our clients, as exemplified in the 50+ five-star Google reviews we've received.  
About TribalVision:
TribalVision is a full-service digital marketing agency that provides outsourced marketing services to organizations looking to accelerate top-line growth. TribalVision is focused on utilizing its clients' marketing budgets as efficiently as possible – ensuring that every dollar spent maximizes awareness, drives meaningful brand engagement, and generates sales. With 10+ years in the market and a team of 65+ full-time strategists, marketers, creatives, and digital specialists on staff, TribalVision is a turn-key solution that equips organizations with the resources and knowledge needed to accelerate top-line growth and reach their full growth potential.
TribalVision specialties include: Lead Generation, Strategic Planning, Branding & Creative Services, Digital & Social Media Marketing, Search Engine Optimization (SEO), Search Engine Marketing (SEM), and Marketing Automation/Tech Stack Consulting.
About the Providence Award Program: 
The Providence Award Program is an annual awards program honoring the achievements and accomplishments of local businesses throughout the Providence area. Recognition is given to those companies that have shown the ability to use their best practices and implemented programs to generate competitive advantages and long-term value.
The Providence Award Program was established to recognize the best of local businesses in our community. Our organization works exclusively with local business owners, trade groups, professional associations, and other business advertising and marketing groups. Our mission is to recognize the small business community's contributions to the U.S. economy.